Overview
OSI has a comprehensive suite of products that allow reliable and valid selection of managers and leaders as well as providing best practice training and development solutions. Our products and processes have been derived from over 30 years of research with high performing leaders in successful organizations worldwide.
OSI's products and services provide principles and tools useful for any type or size of organization. We have successfully worked with a range of organizations, from small private clients to large government agencies. OSI products are scalable and customizable, allowing every organization to easily adapt and use them.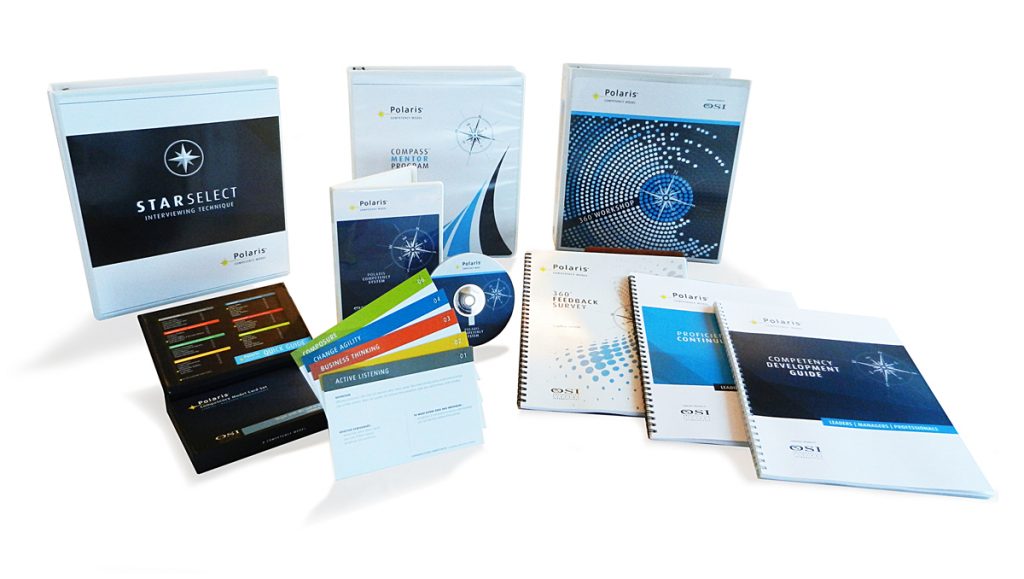 Every talent management system requires valid criteria for success. Clients can build their systems using the best and most current model – the Polaris® Competency Model. Derived from over three decades of research on high performers in a wide range of successful organizations (which included thousands of interviews with top performers, i.e., those who are respected, deliver exceptional results, are likeable, and are passionate about their work), the OSI Polaris® Competency Model identifies the ideal state for use as criteria in best practice selection and development efforts.
To build the Polaris® Competency Model, the OSI benchmark research sample included large multinational corporations like Nike, Hallmark Cards, ServiceMaster, The Walt Disney Company, American Greetings, ITT, Sheraton Hotels, Dow Corning, Wendy's, PETCO, The Limited, CARQUEST, Blizzard Entertainment, and SIEMENS; as well as smaller, regional organizations like Wisconsin Power and Light, State Auto Insurance, Standard Insurance, Children's Hospital of Orange County, Northwest Pipe, Lipscomb University, and Magma Energy. Each organizational model was reviewed by internal job content experts and statistically validated as being essential to effective performance in the organization.
The result of the breadth and depth of this research is an OSI Polaris® Competency Model that is comprehensive and can be applied across all leadership, management, and professional roles. Obviously, not all competencies are relevant to all roles. For instance, a computer programmer might not be held accountable for Talent Development, Strategic Thinking, or Financial Acumen. However, with the Polaris® Competency Model, a subset of essential competencies can be configured for every role.
Launched in 2014, Polaris® 4.0 is a refreshed model that can serve as the foundation for all talent management systems by providing valid criteria and an integrating language across talent management applications. Research has shown that use of a common language optimizes organizational talent selection, development, and appraisal systems. The Polaris® Competency Model provides this common language.
For companies who would like to focus on their globalization, OSI partnered with Esprit Global Learning to develop a competency model for international leadership with a supporting 360° leadership survey. The Polaris® Global Leadership Competency Model defines an "ideal state" for transnational leaders using 19 global competencies within five dimensions. The Polaris® Global Model was founded on the Polaris® Competency Model, literature review, expert review, field testing, and authors' expertise. This Global Model has been particularly useful for individuals facing new transnational assignments.
Based on the Polaris® Competency Model, Star Select™ is a benchmark interviewing program which contains interviewer guides, custom behavioral episode questions, and a scalable interviewing training program.
Powered by the Polaris® Competency Model, the Compass™ Mentor Program contains a mentor and protégé guide with a mentor orientation and training program.
Like individual development, team development requires diagnosis before prescription. OSI's TEAMx provides a multiple-perspective survey of the current state of an intact work team. TEAMx allows a team to measure itself against those elements found in high performing teams. The TEAMx Feedback Report presents a clear picture of team strengths and possible developmental needs. Team building becomes more efficient as team energy is focused on those areas needing the greatest improvement.
The comprehensive set of leadership training materials includes organizational leadership reference card (job aid), case studies with scoring guide, and an article describing the basics of good leadership. For use in leadership development programs, workshops, coaching, etc.
The PSI is a self-report instrument that measures eight sources of power. Individual power preferences are revealed, and the differences between personal (leadership) and positional (management) power explored. The survey can be used in leadership development workshops, coaching, and career planning.
Clients
I worked directly for Bruce in the early 1990′s at OSI and have continued to leverage his knowledge, expertise, and counsel to this day. Bruce combines his deep expertise in OD with a broad-based business sense that makes him extremely effective at what he does. He can help an executive team develop high level strategy, and is grounded enough to help the same executives develop the operating mechanisms to turn the strategy into results.
We've worked with Bruce Griffiths and OSI over the last 7 years and they've provided us a customized, comprehensive Competency Profile, 360 degree Feedback Survey, Competency Development Guide, and Competency-based Interviewing Questions. These tools have really helped State Auto integrate our competencies into our culture, and we use them for development, selection, coaching, succession planning and when creating job descriptions. They've been excellent partners!
The Polaris competency model provides for a systematic approach to managing your human capital. From recruiting, to on-boarding, to performance appraisal, to developing your people, it is an easy to use method that will positively impact the culture of your organization and allow optimization of all talent management systems.
I found the Polaris Competency Model by OSI to be very effective in support of hiring, training and leadership development. Best of all, it is simple to use and I haven't found a better product that is also backed by great service.